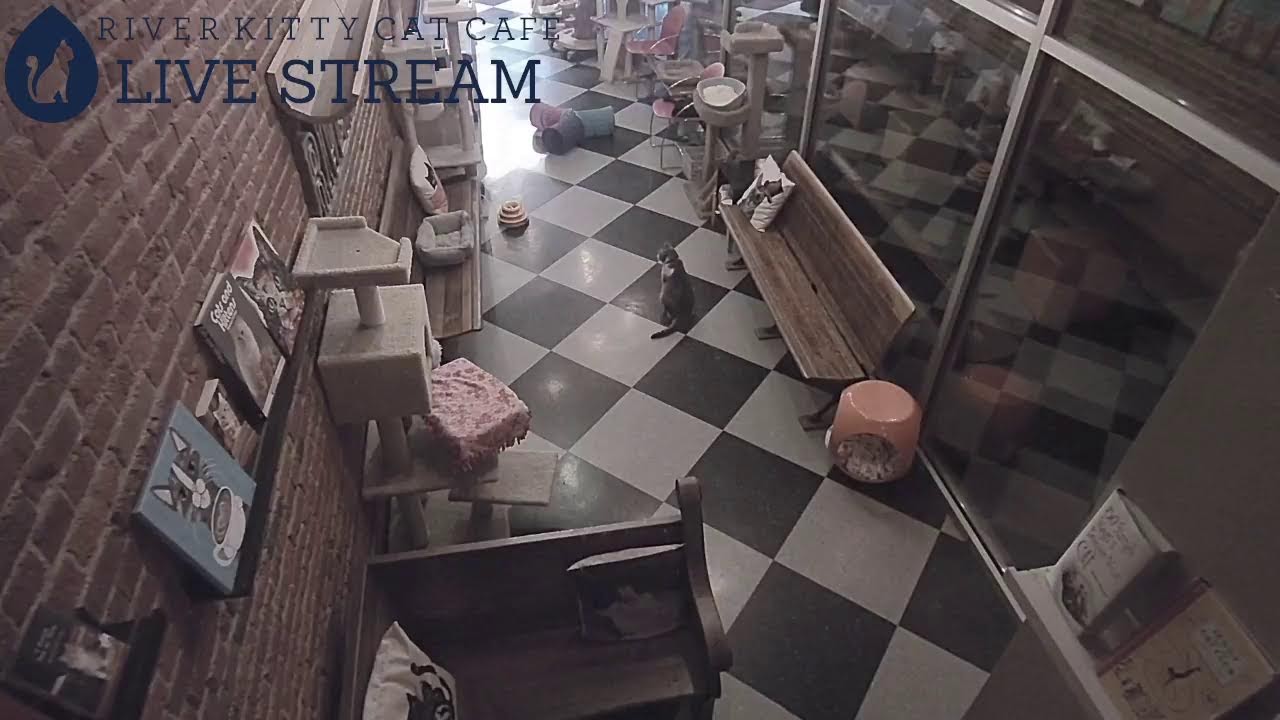 Live Stream Webcam in Evansville, Indiana
The Kitty Cat Cafe is located in Evansville, Indiana. Here is their live feed and information!
Location: Located at 226 Main St, Evansville, IN 47708. It is situated in the downtown area of Evansville, Indiana.
Concept: River Kitty Cat Cafe is a unique establishment that combines a cat adoption center with a coffee shop. It provides a space for visitors to enjoy food and beverages while interacting with adoptable cats in a relaxed and comfortable environment.
Adoption Center: The cafe partners with local animal rescues and shelters to provide a temporary home for cats in need of adoption. The cats at River Kitty Cat Cafe are typically free-roaming, allowing visitors to interact with them, play with them, and potentially adopt them.
Cafe: The cafe offers a menu of coffee, tea, pastries, and other light refreshments. Visitors can enjoy their food and beverages in a designated cafe area while observing and interacting with the resident cats.
Cat Lounge: The cafe has a separate cat lounge area where visitors can spend time with the cats in a relaxed and comfortable setting. The cat lounge is designed to provide a safe and stimulating environment for the cats, and visitors can enjoy the company of the cats while following the cafe's rules and guidelines for cat interaction.
Events and Activities: The cafe hosts various events and activities, such as yoga classes, painting classes, and other cat-themed events, to promote cat adoption, raise awareness about animal welfare, and engage with the community.
Admission Fee: The cafe typically charges an admission fee or requires a reservation to enter the cat lounge, which helps support the care and maintenance of the resident cats.
If you are interested in visiting River Kitty Cat Cafe or learning more about their services, it's recommended to check their website or contact them directly for up-to-date information on their offerings, hours of operation, and admission policies.
What is a Cat Cafe?
Cat cafes are unique establishments that combine a cafe or coffee shop with a space for interacting with cats. They typically offer a cozy and inviting atmosphere where visitors can enjoy food and beverages while spending time with friendly cats that are often available for adoption. Cat cafes have gained popularity in recent years as they provide an opportunity for animal lovers to interact with cats in a relaxed and social environment, and also help promote cat adoption and animal welfare.
About Evansville, Indiana
Evansville is a city located in the southwestern corner of the state of Indiana, United States. It is the third-largest city in Indiana, after Indianapolis and Fort Wayne, and is the county seat of Vanderburgh County. Here is some information about Evansville:
Geography: Evansville is located in the southwestern part of Indiana, near the Ohio River. It is approximately 120 miles southwest of Indianapolis, the state capital, and about 160 miles northwest of Louisville, Kentucky. The city has an area of approximately 47 square miles.
Population: As of the 2020 census, the population of Evansville was estimated to be around 119,500, making it the third-most populous city in Indiana.
Economy: Evansville has a diverse economy with a mix of industries, including manufacturing, healthcare, education, retail, and service sectors. The city is known for its manufacturing heritage and is home to several major manufacturing companies, particularly in the automotive, steel, and food processing industries.
Education: Evansville is home to several higher education institutions, including the University of Evansville, the University of Southern Indiana, and Ivy Tech Community College. These institutions offer a wide range of undergraduate and graduate programs in various fields of study.
Culture and Attractions: Evansville has a rich cultural scene with numerous museums, theaters, and other attractions. Some popular attractions in Evansville include the Evansville Museum of Arts, History and Science, the Mesker Park Zoo & Botanic Garden, the Children's Museum of Evansville, and the USS LST Ship Memorial. The city also has a vibrant arts and music scene, with various art galleries, theaters, and music festivals.
Sports: Evansville has a strong sports culture, with a variety of sports and recreational activities available to residents and visitors. The city is home to minor league baseball team, the Evansville Otters, and hosts numerous sports events and tournaments throughout the year.
Outdoor Recreation: Evansville offers several parks and recreational areas for outdoor activities, including the Pigeon Creek Greenway Passage, Wesselman Woods Nature Preserve, and the Ohio River Greenway. These areas provide opportunities for hiking, biking, boating, fishing, and other outdoor activities.
History: Evansville has a rich history dating back to its founding in the early 19th century. It played a significant role in the growth of the Midwest as a transportation hub and industrial center. The city has a number of historic landmarks and buildings, including the Reitz Home Museum, which is a preserved Victorian mansion, and the Willard Library, which is one of the oldest public libraries in the state of Indiana.
These are some basic facts about Evansville, Indiana. The city offers a diverse blend of culture, history, and recreational opportunities for its residents and visitors to enjoy.