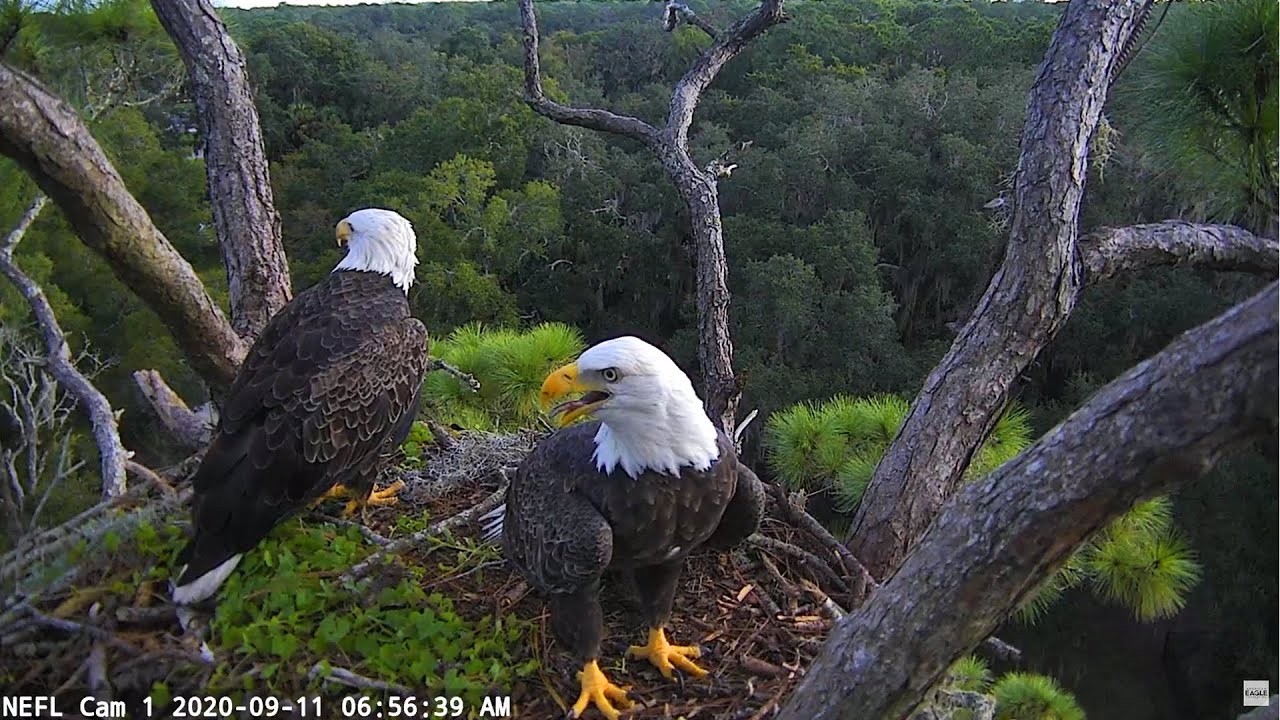 Jacksonville Florida Eagle Webcam
Eagle Webcam in Jacksonville
Eagle Webcam is sponsored by the American Eagle Foundation.
The American Eagle Foundation (AEF) is a non-profit organization dedicated to the conservation of bald eagles and other birds of prey through public education, habitat preservation, and rehabilitation. The organization was founded in 1985 and is based in Pigeon Forge, Tennessee.
The AEF operates the world's largest bald eagle sanctuary, known as the Dollywood Eagle Mountain Sanctuary, which is located at the Dollywood theme park in Pigeon Forge. The sanctuary provides a natural environment for bald eagles that are unable to be released into the wild due to permanent injuries or other issues.
In addition to its sanctuary work, the AEF also operates a rehabilitation center for birds of prey, providing medical care and rehabilitation services to injured birds before releasing them back into the wild. The organization also conducts research on birds of prey and advocates for their protection through public outreach and education programs.
One of the AEF's most notable projects is the "Eagle Nest Cam," which provides a live video feed of bald eagles nesting in the wild. The Eagle Nest Cam has become a popular educational tool, allowing people to observe the behavior of bald eagles in their natural habitat and learn about their conservation needs.
Overall, the American Eagle Foundation is an important organization in the conservation of bald eagles and other birds of prey. Its work helps to ensure the survival of these iconic species for future generations to enjoy.
Webcam in Jacksonville
Jacksonville is a coastal city in the northeastern part of Florida, situated on the banks of the St. Johns River. With a population of over 900,000 people, it is the largest city by area in the contiguous United States, covering over 840 square miles.
Jacksonville is known for its beaches, parks, and waterways, which offer a variety of recreational opportunities for residents and visitors alike. The city has over 22 miles of beaches, including Jacksonville Beach, Neptune Beach, and Atlantic Beach. The St. Johns River is also a popular destination for boating and fishing.
In addition to its outdoor recreation opportunities, Jacksonville also has a vibrant cultural scene, with a variety of museums, art galleries, and theaters. The Cummer Museum of Art and Gardens is one of the city's most popular cultural attractions, featuring a collection of over 5,000 works of art and a 2.5-acre formal garden.
Jacksonville is also home to several professional sports teams, including the Jacksonville Jaguars of the National Football League (NFL), the Jacksonville Jumbo Shrimp of Minor League Baseball, and the Jacksonville Armada FC of the National Independent Soccer Association.
Overall, Jacksonville is a diverse and dynamic city that offers a wide range of attractions and activities. Whether you're interested in outdoor recreation, cultural events, or sports, there's something for everyone in Jacksonville.