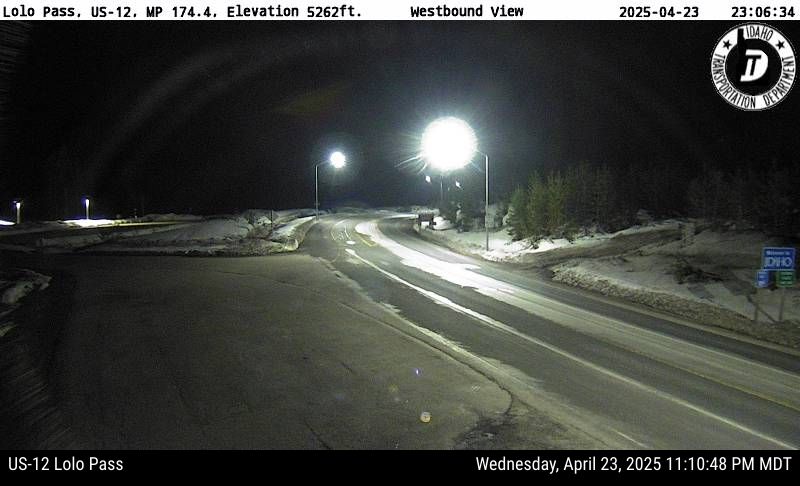 Lolo Pass Travel Webcam
The Lolo Pass webcam is a live streaming camera located at the summit of Lolo Pass in western Montana, United States. The webcam is operated by the Idaho Department of Transportation and provides real-time images of the pass and surrounding area.
The Lolo Pass webcam is a valuable resource for travelers and outdoor enthusiasts, as it provides up-to-date information on road conditions and weather conditions in the area. The camera can be accessed online through the MDT's website, where visitors can view the current image as well as archived footage from previous days.
In addition to providing useful information for travelers, the Lolo Pass webcam is also a popular tool for researchers and wildlife enthusiasts. The camera has captured images of a variety of wildlife species, including elk, deer, moose, and bears, as they pass through the area.
Overall, the Lolo Pass webcam is a useful and informative resource for anyone planning to visit the Lolo Pass area or interested in monitoring the region's weather and wildlife.
About Lolo Pass
Lolo Pass is a mountain pass located in the Rocky Mountains of western Montana in the United States. The pass is situated on the border between the states of Montana and Idaho and has an elevation of 5,233 feet (1,595 meters). It is part of the Lolo Trail, which is a historic route that was used by the Nez Perce tribe and later by explorers and traders traveling between the Columbia River basin and the Rocky Mountains.
The Lolo Pass area is known for its rugged and scenic landscape, which includes dense forests, deep canyons, and high mountain peaks. The pass is also popular for outdoor recreational activities such as hiking, camping, and skiing.
In addition to its natural beauty, Lolo Pass has a rich history. It was an important travel route for Native Americans, and later became a key transportation corridor for early explorers, fur traders, and settlers. The pass was also a significant location during the Nez Perce War of 1877, which was a conflict between the United States government and the Nez Perce tribe.
Today, Lolo Pass is part of the Lolo Pass National Historic Landmark, which includes the Lolo Trail and other historic sites in the area. The pass is accessible by road from both Montana and Idaho and is a popular destination for visitors to the region.