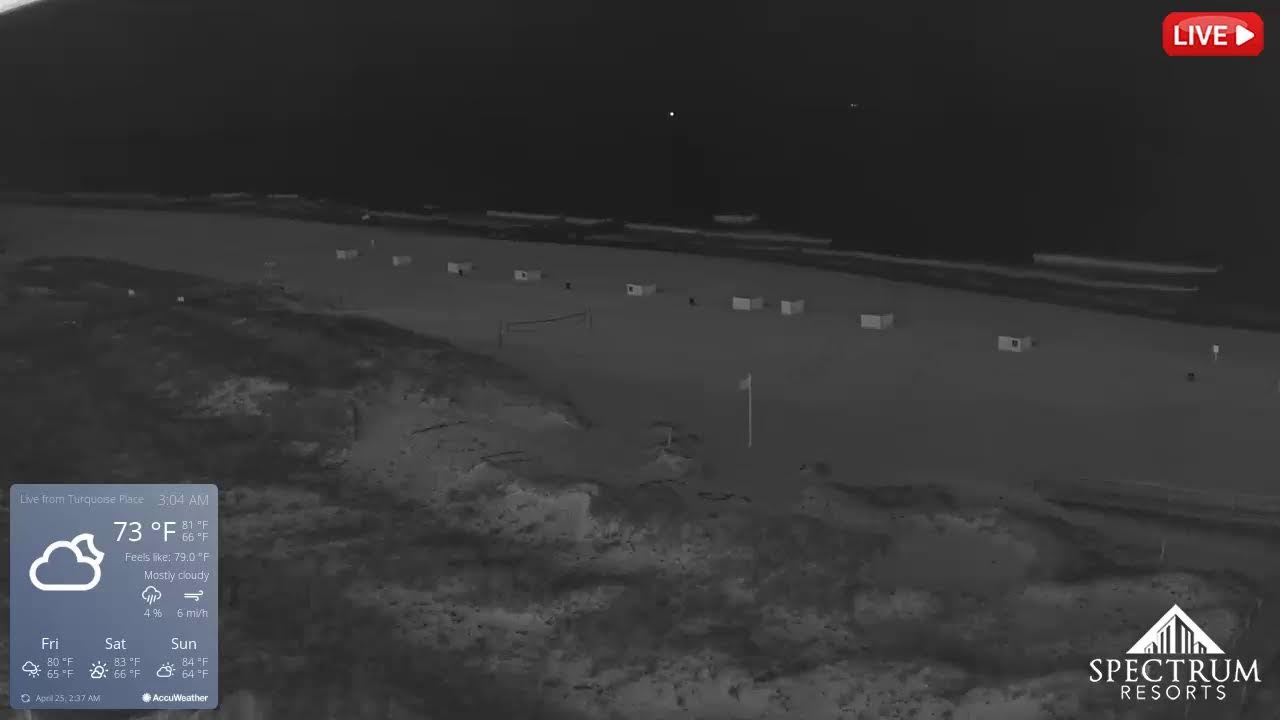 Live Webcam at Turquoise Place Alabama
Live Webcam of Turquoise Place
Turquoise Place is a luxury resort located in Orange Beach, Alabama, overlooking the Gulf of Mexico. It is known for its upscale amenities, spacious suites, and beautiful views of the Gulf Coast.
The resort features three towering, glass-fronted buildings that contain 400 individual condominiums, ranging in size from three to five bedrooms. Each condominium is beautifully appointed with high-end furnishings, modern appliances, and large balconies that offer breathtaking views of the Gulf of Mexico.
One of the highlights of Turquoise Place is its extensive list of amenities. The resort features two outdoor pools, a lazy river, hot tubs, and a children's pool with a water slide. There is also an indoor pool, steam room, sauna, and fitness center, as well as an on-site spa that offers a range of treatments and services.
For those who enjoy outdoor activities, the resort offers access to the Gulf of Mexico, where guests can enjoy swimming, kayaking, fishing, and boating. There are also several nearby golf courses, as well as hiking and biking trails for those who prefer to stay on land.
In addition to its amenities, Turquoise Place is also known for its excellent dining options. The resort features several on-site restaurants, including the Spectrum Restaurant, which offers a fine dining experience, and the Lagoon Bar and Grill, which serves casual fare and cocktails by the pool.
Overall, Turquoise Place is a premier vacation destination that offers guests the opportunity to experience luxury living on the Gulf Coast. With its beautiful accommodations, extensive amenities, and stunning views, it is an ideal choice for those seeking a high-end vacation experience.
Orange Beach, Alabama
Orange Beach is a coastal city located in the southern part of Alabama, USA. It is situated on the Gulf of Mexico and is known for its beautiful beaches, turquoise waters, and abundant outdoor recreational opportunities.
The city is home to several miles of pristine white sand beaches that are perfect for swimming, sunbathing, and enjoying water sports like jet skiing and parasailing. There are also several public beach access points, as well as several beachfront parks, that provide visitors with ample opportunities for outdoor recreation.
In addition to its beaches, Orange Beach is known for its excellent fishing opportunities. The city is home to several charter fishing companies that offer guided trips in the Gulf of Mexico, as well as inshore fishing trips in the back bays and estuaries. The city is also home to several fishing tournaments throughout the year, including the Orange Beach Billfish Classic, which attracts anglers from around the world.
For those who prefer to stay on land, Orange Beach offers several options for outdoor recreation, including hiking and biking trails, golf courses, and public parks. The Hugh S. Branyon Backcountry Trail is a popular choice for hiking and biking, as it winds through several miles of beautiful coastal forest and wetlands.
In addition to its outdoor attractions, Orange Beach is home to several excellent restaurants, shopping areas, and entertainment venues. The Wharf at Orange Beach is a popular entertainment district that features several restaurants, shops, and an amphitheater that hosts concerts and other events throughout the year.
Overall, Orange Beach is a beautiful and vibrant coastal community that offers visitors a wide range of outdoor recreational opportunities, as well as excellent dining, shopping, and entertainment options. It is an ideal destination for those seeking a relaxing beach vacation with plenty of options for outdoor adventure.