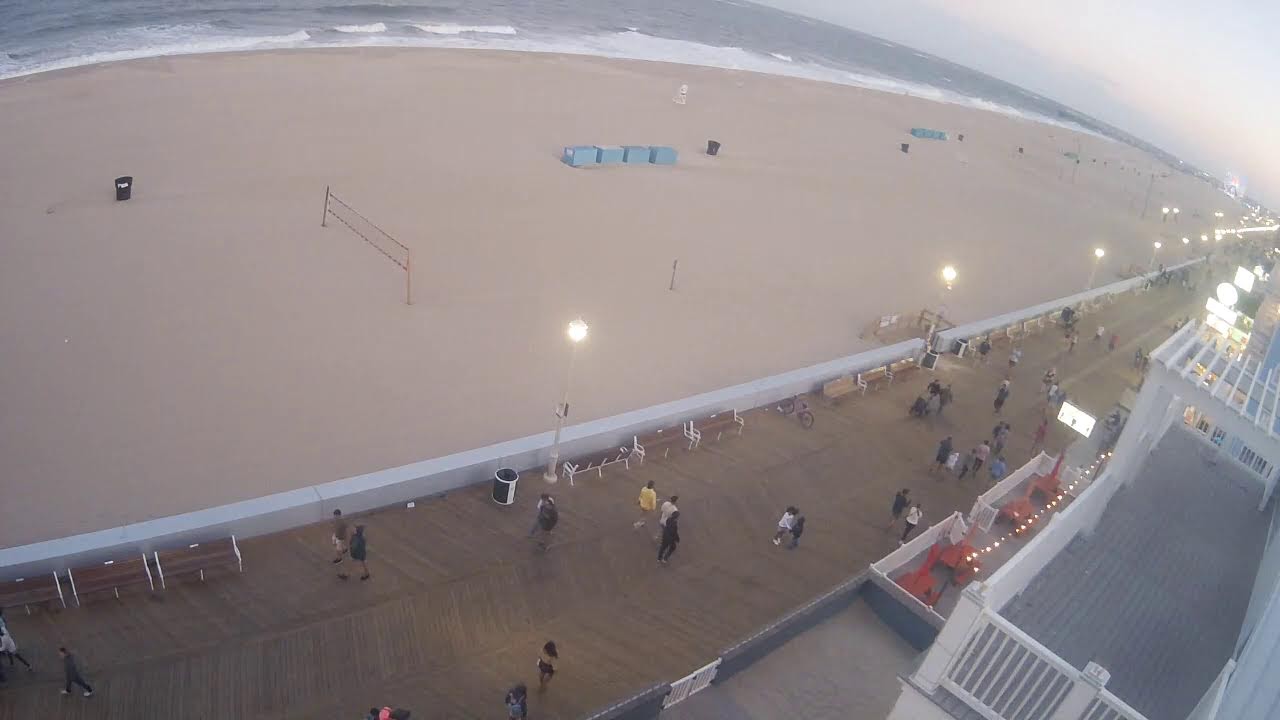 Live Boardwalk Webcam Ocean City, MD
Live Streaming from the Comfort Inn
See the Ocean City Boardwalk from the Comfort Inn.
Exploring the Enchanting Ocean City Boardwalk: A Perfect Beachside Escape
Nestled along the stunning Atlantic Ocean shoreline, the Ocean City Boardwalk is a must-visit destination for those seeking a perfect beachside escape. Spanning 3 miles of pure delight, this iconic boardwalk offers a delightful blend of amusement, entertainment, and picturesque views that will leave you enchanted.
Unleashing Fun and Excitement
The Ocean City Boardwalk is an amusement wonderland that guarantees endless excitement for all. Get your adrenaline pumping on thrilling roller coasters or take a leisurely spin on the classic Ferris wheel. Engage in friendly competition at the arcades or challenge your family to a round of mini-golf. The boardwalk also offers go-kart tracks for racing enthusiasts. With each step, you'll discover a new adventure awaiting you.
Indulgence for All Senses
As you stroll along the boardwalk, tantalizing aromas waft through the air, tempting you to indulge your taste buds. Sample mouthwatering treats at the numerous food stands offering everything from piping hot funnel cakes to freshly caught seafood delicacies. Savor a scoop of homemade ice cream while taking in the breathtaking ocean views. The boardwalk is also home to charming shops where you can find unique beachwear, handmade crafts, and souvenirs to commemorate your visit.
Scenic Oasis
With the soothing sound of crashing waves and the salty ocean breeze, the Ocean City Boardwalk offers a tranquil respite. Take a moment to pause and relish the panoramic ocean views, as the golden sun paints the sky during the magical hours of sunrise and sunset. Capture these picture-perfect moments and create memories that will last a lifetime.
A Year-Round Haven
While summer buzzes with energy, the Ocean City Boardwalk remains a year-round haven. Embrace a serene walk during the quieter seasons, appreciating the boardwalk's charm and serenity. Even in winter, the boardwalk delights with festive lights and holiday cheer, offering a cozy and enchanting atmosphere.
The Ocean City Boardwalk is a treasure trove of entertainment, delicious delights, and awe-inspiring views. Whether you're seeking thrilling adventures or simply wish to bask in the beauty of the ocean, this beloved boardwalk has it all. Embrace the magic, create unforgettable memories, and let the Ocean City Boardwalk be your ultimate beachside escape.