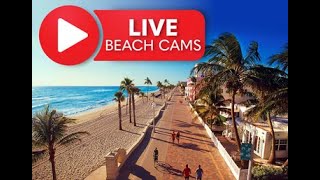 Webcam of Hollywood Florida
Boardwalk View
Hollywood is a coastal city in Broward County, Florida, situated between Fort Lauderdale to the north and Miami to the south. The city covers an area of 30.8 square miles and has a population of approximately 154,000 people.
Hollywood is known for its beautiful beaches, which stretch for miles along the Atlantic Ocean. The city has several public beaches, including Hollywood Beach, which is a popular destination for tourists and locals alike. Hollywood Beach is known for its boardwalk, which runs for 2.5 miles and features shops, restaurants, and entertainment venues.
In addition to its beaches, Hollywood also offers a variety of cultural and recreational activities. The ArtsPark at Young Circle is a public park in the center of downtown Hollywood that features a variety of cultural events, concerts, and festivals throughout the year. The park also has a playground, interactive fountain, and picnic areas.
Hollywood is also home to several golf courses, parks, and recreational facilities. The Anne Kolb Nature Center is a 1,500-acre coastal mangrove wetland that offers hiking trails, a fishing pier, and a visitor center with exhibits on local wildlife and conservation efforts.
Overall, Hollywood is a vibrant and diverse city that offers something for everyone, from outdoor recreation and cultural activities to shopping and dining.