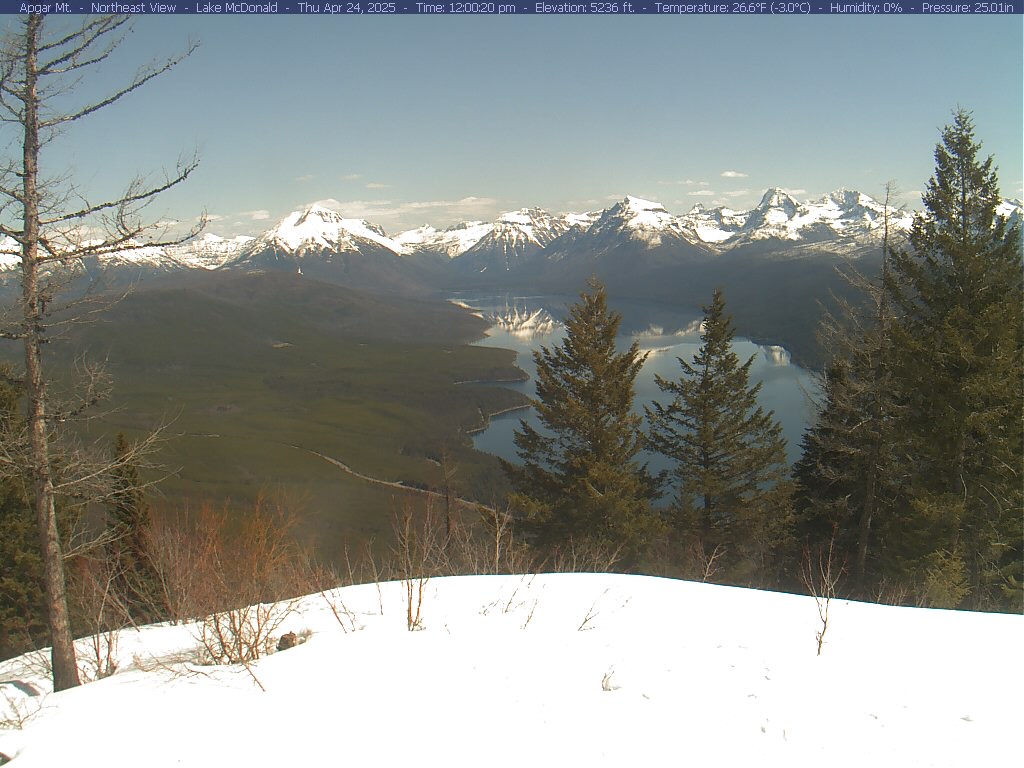 View of Lake MacDonald in Glacier Park
Webcam View From Apgar Mountain
Apgar Mountain is a prominent peak located in the western part of Montana, in the United States. It is part of Glacier National Park, one of the most famous and beautiful national parks in the country.
Apgar Mountain rises to an elevation of 6,818 feet (2,078 meters) above sea level, and it is located just to the south of the western entrance to Glacier National Park. The mountain offers stunning views of the surrounding landscape, including the crystal-clear waters of Lake McDonald and the towering peaks of the Continental Divide.
Apgar Mountain is a popular destination for hikers and outdoor enthusiasts, who can explore the area's many hiking trails and enjoy the breathtaking scenery. The most popular trail to the summit of Apgar Mountain is the Apgar Lookout Trail, which is a moderately difficult hike that covers a distance of 7.5 miles (12 kilometers) round trip.
From the summit of Apgar Mountain, hikers can enjoy panoramic views of the park and the surrounding wilderness. The mountain is also home to a fire lookout tower, which was built in 1930 and is still in use today.
Overall, Apgar Mountain is a must-see destination for anyone visiting Glacier National Park or the surrounding area. Its stunning vistas, abundant wildlife, and rich history make it a truly unforgettable experience.
Apgar Mountain Webcam
There are several webcams in Glacier National Park, including some that capture views of Apgar Mountain. The National Park Service maintains a number of webcams throughout the park, which provide real-time views of the surrounding landscape and weather conditions.
One webcam that offers a view of Apgar Mountain is located at the Apgar Village Lodge, near the western entrance to the park. This webcam provides a live view of Lake McDonald and the surrounding mountains, including Apgar Mountain.