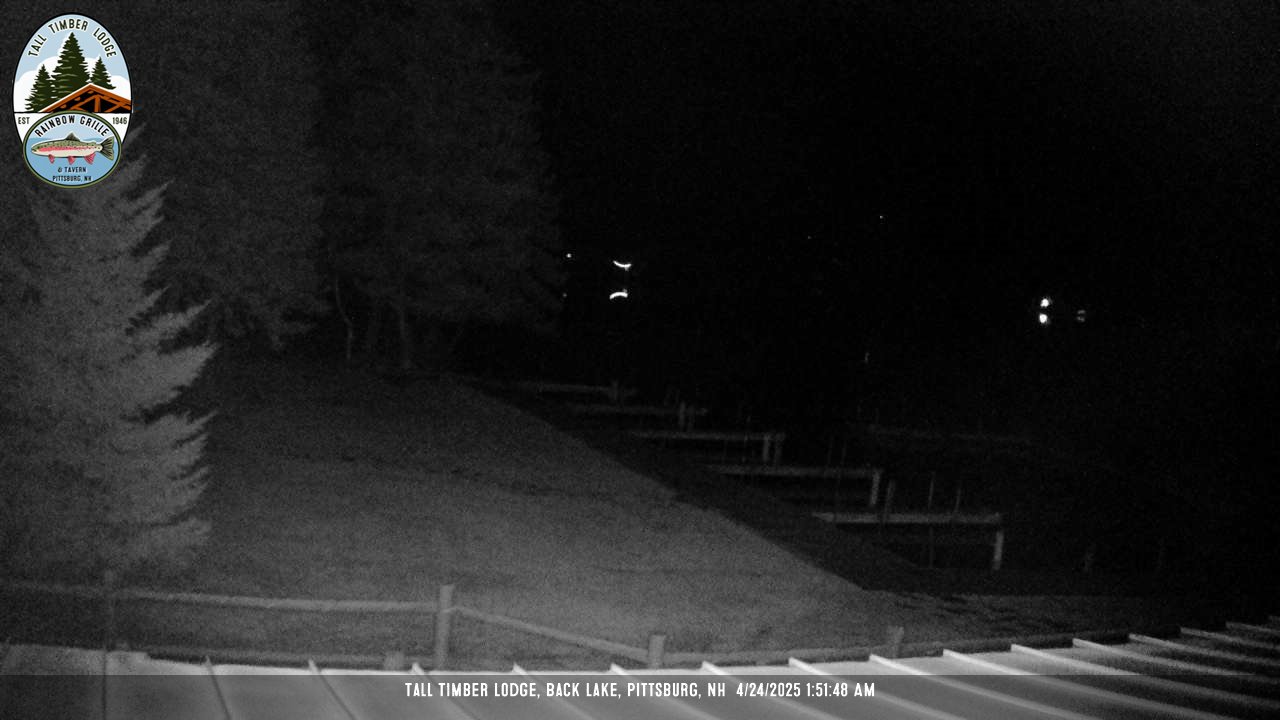 Back Lake Webcam at Tall Timber
Back Lake Webcam
Back Lake is a small, natural lake located in the town of Pittsburg, New Hampshire, USA. It is situated in the northernmost part of New Hampshire, near the border with Canada.
The lake covers an area of approximately 342 acres (1.38 square kilometers) and has a maximum depth of 35 feet (10.7 meters). The lake is surrounded by forests and has a relatively undeveloped shoreline, giving it a remote and peaceful feel.
Back Lake is known for its excellent fishing opportunities. It is home to a variety of fish species, including brook trout, rainbow trout, brown trout, and smallmouth bass. The lake is stocked annually with rainbow and brook trout by the New Hampshire Fish and Game Department.
In addition to fishing, Back Lake offers opportunities for boating, kayaking, and swimming. The lake has several boat ramps and a public beach area.
The area around Back Lake is popular for outdoor recreation, with many hiking trails and scenic drives nearby. The nearby Connecticut Lakes Region is known for its scenic beauty, wildlife viewing, and opportunities for hunting and fishing.
Overall, Back Lake is a beautiful and tranquil destination for those seeking a peaceful retreat in the wilderness of northern New Hampshire.
Tall Timber Lodge
Tall Timber Lodge is a four-season resort located in Pittsburg, New Hampshire, USA. It is situated on the shore of Back Lake, with the Connecticut Lakes just a short distance away. The lodge offers a range of accommodations, including cabins, cottages, and lodge rooms, that can accommodate couples, families, and groups.
The lodge offers a variety of activities throughout the year. In the summer, guests can enjoy fishing, boating, hiking, and mountain biking. The area is home to a variety of fish species, including trout, salmon, and bass, making it a popular destination for anglers. There are also several nearby hiking trails, including the Cohos Trail, which offers scenic views of the surrounding mountains and forests.
In the winter, the lodge offers access to snowmobiling trails, cross-country skiing, and snowshoeing. The lodge also has its own skating rink and offers ice fishing on Back Lake. The area receives abundant snowfall, making it an ideal destination for winter sports enthusiasts.
Tall Timber Lodge also has a restaurant, the Rainbow Grille, which serves breakfast, lunch, and dinner. The restaurant specializes in regional cuisine, with an emphasis on fresh seafood and locally-sourced ingredients.
Overall, Tall Timber Lodge is a popular destination for outdoor enthusiasts looking to experience the natural beauty of New Hampshire's North Country.