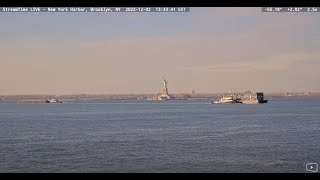 New York City Harbor Webcam
Webcam of New York Harbor
From the Waterfront Museum in Red Hook
See New York harbor from this live webcam.
The Waterfront Museum is a small museum located in Red Hook, Brooklyn, New York. The museum is housed in a historic wooden barge called the Lehigh Valley Railroad Barge #79, which was built in 1914 and used to transport goods along the East Coast.
The barge was converted into a museum in 1985 by David Sharps, a circus performer and historian, who wanted to create a space where people could learn about the history of the waterfront and the role it played in shaping New York City.
Today, the museum offers a range of exhibits and programs that showcase the history and culture of the waterfront. Visitors can learn about the different types of ships that have sailed into New York Harbor over the years, the role of the waterfront in the city's economy, and the lives of the people who worked and lived along the waterfront.
In addition to its exhibits, the museum also hosts a variety of events throughout the year, including live music performances, storytelling events, and historical reenactments. The barge is also available for private events, such as weddings and corporate functions.
Overall, the Waterfront Museum is a unique and fascinating destination that offers visitors a chance to learn about the rich history of the Brooklyn waterfront and the people who made it what it is today.
New York Harbor
New York Harbor is a natural harbor located at the mouth of the Hudson River, where it meets the Atlantic Ocean, in the northeastern United States. It is one of the largest natural harbors in the world and has played a significant role in the development of New York City and the surrounding region.
The harbor is approximately 25 miles long and covers an area of over 300 square miles. It is surrounded by several islands, including Manhattan, Staten Island, and Governors Island, as well as the New Jersey cities of Jersey City and Bayonne.
Throughout history, New York Harbor has been a key port for trade, commerce, and immigration. The harbor has been used for shipping and transportation for over 400 years, with the first European ship, the Half Moon, sailing into the harbor in 1609. Today, the harbor is still one of the busiest ports in the world, handling billions of tons of cargo each year.
In addition to its commercial importance, New York Harbor is also a major tourist destination, with attractions such as the Statue of Liberty, Ellis Island, and the South Street Seaport drawing millions of visitors each year. The harbor is also home to a variety of recreational activities, including boating, fishing, and sightseeing tours.
Overall, New York Harbor is a vital part of the history and culture of the New York City area, and continues to play an important role in the region's economy and way of life.