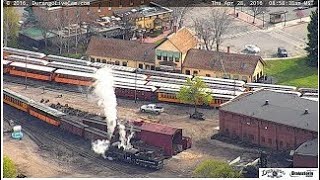 Durago Colorado Webcams
And Live Video Stream
Durango is a small city located in southwestern Colorado, United States. It is known for its rich history, stunning natural beauty, and a wide range of outdoor activities.
The city is situated in the Animas River Valley, surrounded by the majestic San Juan Mountains. The area is home to a variety of outdoor recreation opportunities, including hiking, mountain biking, skiing, and fishing. Durango is also the starting point for the Durango & Silverton Narrow Gauge Railroad, a historic steam-powered train that travels through the scenic San Juan National Forest.
Durango is also known for its vibrant downtown, which features a variety of shops, galleries, and restaurants. The city has a rich cultural heritage, with a number of historic buildings and landmarks, including the Strater Hotel, a Victorian-era hotel that has been in operation since 1887.
In addition to its natural beauty and cultural attractions, Durango is also home to Fort Lewis College, a public liberal arts college that is renowned for its academic programs and outdoor education opportunities. The college is located on a mesa overlooking the city and offers stunning views of the surrounding mountains and valleys.
Overall, Durango is a charming and vibrant city that offers something for everyone, whether you're interested in outdoor adventure, cultural exploration, or just relaxing and taking in the stunning scenery.