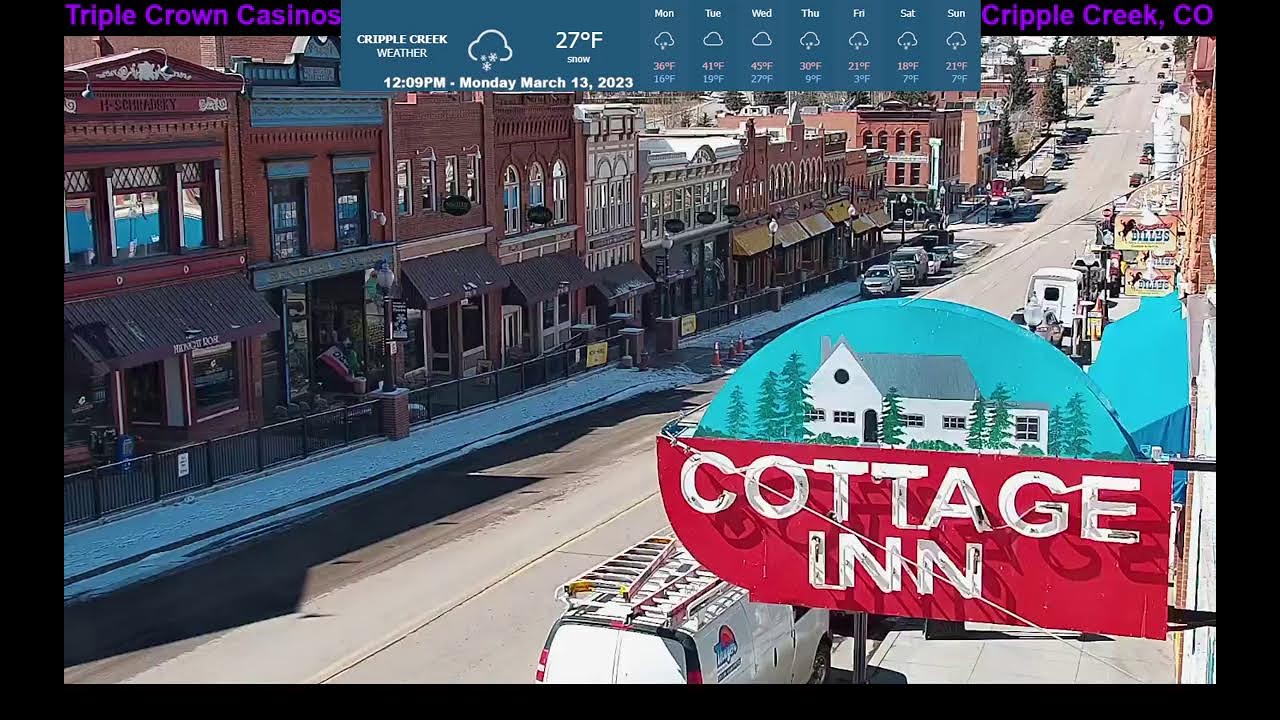 Cripple Creek Colorado Webcam
Triple Crown Casinos Live Stream Webcam in Cripple Creek, CO
Webcam View of Downtown Cripple Creek
Cripple Creek is a small town located in central Colorado, United States. It is known for its rich history as a gold mining town and its charming downtown area, which features a variety of shops, restaurants, and historic buildings.
The town was founded in the late 1800s during the Colorado Gold Rush and quickly became a hub of mining activity. At its peak, Cripple Creek was one of the most productive gold mining districts in the United States, producing more than 22 million ounces of gold over the course of its history.
Today, Cripple Creek is a popular tourist destination, with a variety of attractions that celebrate the town's rich history. Visitors can take a tour of the Mollie Kathleen Gold Mine, which offers a fascinating look at the history of mining in the area. The town also features a number of historic buildings and museums, including the Cripple Creek and Victor Narrow Gauge Railroad, which offers scenic rides through the mountains.
In addition to its history, Cripple Creek is also known for its outdoor recreation opportunities. The area is home to a number of hiking and biking trails, as well as fishing and hunting opportunities.
Overall, Cripple Creek is a charming and historic town that offers a unique glimpse into Colorado's gold rush history. Whether you're interested in exploring the town's mining history, taking in the natural beauty of the surrounding mountains, or just relaxing and enjoying the small-town atmosphere, Cripple Creek is a must-visit destination in Colorado.